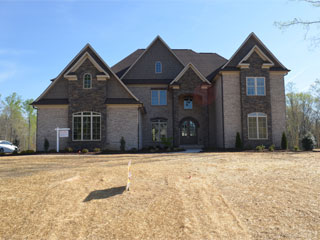 Shopping for
homes for sale in Greensboro, NC
or elsewhere can be a challenge. You are preparing to make a major investment and commitment. You may have already chosen the area that works best for you. Now you want to find a house that meets your needs and lifestyle.
Before you take the plunge into buying a home, it is good to weigh all the options. While there may be many established homes for sale in the locale you've selected, are you sure that it will have everything you are looking for in a home for your family?
Building a Home Offers Many Advantages
The most apparent and arguably the most significant advantage to building a custom home is that it will be designed around your personal preferences. Builders like Don Mills Builders, Inc. offer a number of floor plans or home designs for you to choose from, which you can have modified to your preference. Building your own home gives you the freedom to create a living space that matches your vision. In other words, your house will be precisely what you make it. There aren't any compromises that have to be made when it comes to building your dream home, you can have exactly what you envision.
Another benefit of building a new home is that it is also advantageous for the environment and your electric bill. A new home is more efficient, particularly with the new energy codes in place today. Plus,with the new Energy Star-rated appliances, new water efficiencies, and electrical fixtures, your home will be a green, sustainable house, along with a much more pleasing electric bill.
Choose Where You Want to Live
Choice of location and layout is a major plus when it comes to building a custom home. Every detail is a reflection of your family, and how you live including the lot on which you choose to build. Custom homes are a one-of-a-kind house built with an endless array of design choices. The neighborhood you choose should also reflect the preferences and needs of your family right down to the landscaping.
There are many pre-existing houses for sale on the market today. But if you are looking to fulfill a dream of a home that encapsulates everything you envision, then building a custom home is the best choice. With the assistance of a reputable builder like Don Mills, who will provide you with communication every step of the process and exceptional craftsmanship, your home will be constructed to match your vision.
Sources: Should You Buy or Build a Home?, Investopedia.com
What is a Custom Home?, About.com
https://donmillsbuilders.com/wp-content/uploads/2017/07/ft-img-lot38.jpg
240
320
dmbuilders_admin
https://donmillsbuilders.com/wp-content/uploads/2017/08/DonMillsLogo-1.png
dmbuilders_admin
2017-07-12 07:46:28
2017-07-12 07:47:44
Greensboro Homebuilders Will Help You Fulfill Your Dreams