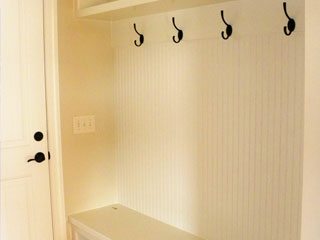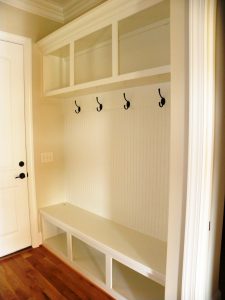 The fundamental purpose of a foyer or entryway is to transition from outside in. However, this space also gives your guests a glimpse of your personal style and welcomes them into your home. Creating a welcoming and beautiful entryway is one of the exciting tasks you will have when building your custom home in Summerfield. There are many options to create this space to be not only functional but also provide a stunning first impression for the rest of your home. When working with a
new home builder in Summerfield
, be sure to discuss the design features and foyer styles available so you can achieve the distinctive entryway you want to create a positive first impression. Do you prefer wide foyers with wainscoting? How about two-story ceilings with large windows? Whatever your style preference is, Don Mills Builders understands the importance that every detail makes when designing a custom home that is a personal and welcoming place for you and your family.
Decorate with a Focal Point for Entryways
A welcoming entryway is a great way to really feel "at home" in your new custom home. Here are few design ideas for decorating your new entryway after you move in, as mentioned in www.homesandland.com:
"Use a handsome mirror to create the illusion of more space in a foyer. Not only does a mirror make the foyer look more spacious, but it is functional, leaving the option for a final check of your appearance before leaving the house. Just remember, the more ornate the mirror, the more it serves as a piece of art, reducing the need for other decorative accessories."
The use of a mirror near the entryway not only invites friends and family members to catch a glimpse of other parts of your home but also creates a focal point as well. Putting an attractive mirror at the entryway is a gracious way to welcome friends and family into your home. If the foyer is small, it can add a cozy feeling to your area.
Use Furniture that is Stylish and Functional for the Foyer
The foyer is a popular area of transition for family members coming and going. It is the first "stopping" place when coming in or leaving the house. The average household might want to drop coats, hats, shoes, sports equipment, umbrellas, backpacks and totes in the foyer, so keeping it organized can be a challenge. The entryway to a home can be a very active place even if you don't have many family members, so a functional piece of furniture that can double as storage is a great option. When deciding on the items for your foyer that adhere to your family's needs and personality, be sure that the furniture also coincides with your overall decor. How do you decide which type of furniture to add to your foyer? At www.homesandland.com, a piece of art or a side table may be the answer:
"Start with one primary piece of furniture carefully chosen to work with the theme and traffic patterns of your house. For instance, a more upscale, less-trafficked home would do well with a foyer that incorporates a beautiful coffee table or side table with a vase of fresh flowers. A large piece of art on a wall completes this classic and stylish approach. In this scenario, the foyer is not used often and is not meant for storage. It is a display area that ushers in guests, rather than a catch-all spot for a busy family."
Whatever your family's lifestyle, Don Mills Builders can integrate your preferences and needs to create a stunning and functional entryway that will welcome your family and friends into your new custom home. As you plan your new home with the home builder in Summerfield, every detail will be taken into account so you will get the home and style you have always wanted. Don Mills Builders builds distinguished and personalized homes that will give you and your family many years of comfortable living and wonderful memories. Contact us today to learn more about our custom home design and discover why we are one of the top building contractors in Summerfield: 336-362-1777.
(Source: Foyer Decorating Ideas to Bring an Entryway to Life, www.homesandland.com, 2015)
https://donmillsbuilders.com/wp-content/uploads/2017/07/ft-img-build-with.jpg
240
320
dmbuilders_admin
https://donmillsbuilders.com/wp-content/uploads/2017/08/DonMillsLogo-1.png
dmbuilders_admin
2017-07-12 07:09:27
2017-12-15 21:23:56
Build with a New Home Builder in Summerfield, and Design a Stylish Entryway