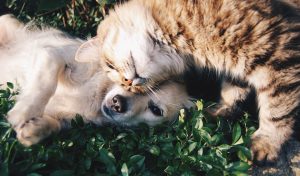 Are you a lover of furry four-legged friends? If you have pets in your household, chances are they are truly part of the family. So why not consider their needs when designing your new custom home? More and more custom homes in Greensboro are being built with special pet-friendly features that make both pets and their owners happy. Here are some ideas. 
The Most Pet-Friendly Flooring Materials
Choose your flooring carefully if you have pets. It may be the single most important decision you'll make in your custom home design. Here are the flooring materials that hold up best under pet traffic. 
Bamboo. One of the hardest woods, bamboo is highly resistant to scratching and pet accidents. 

 
Laminate. A common flooring option, laminate is mostly scratch resistant and can handle moisture and pet accidents without much trouble. 

 

Vinyl. It might surprise you, but vinyl floors are quite durable and stain resistant. They are also quiet so you won't hear the constant clicking of pets' toenails. 

 

Stone. No reason to worry about moisture or scratching with stone floors. Granite is a common choice due to its strength and durability. 

 

Ceramic Tile. Porcelain or ceramic tiles are another strong flooring option for high pet traffic areas of your home. Be sure grout is sealed to prevent staining. 

 

Cork. Also sound absorbent like vinyl, cork is an environmentally-friendly option that is anti-microbial. It is mostly scratch and moisture resistant, so long as spills and accidents are cleaned up promptly. 

 
Area rugs are a good addition to any of these hard flooring options for pet comfort and ease of movement.  
Create a Designated Pet Feeding Zone
The area where food and water bowls sit can be a mess. There are some creative ways to design a special area just for feeding that will hold up to the wear and tear.  
Add a designated food bowl area on the end of a kitchen island. A granite surface with built-in bowl spots holds up to moisture.

 

A pull-out feeding drawer with built-in holes for removable bowls is a major space saver. It also allows you to hide the feeding area when not in use. 

 
Include a food storage space right next to the feeding area. Simply scoop food into bowls and feed pets in just seconds. 

 
Hidden Litter Box Solutions
When you have a cat, the litter box is a necessary evil. But you can keep it completely out of sight with a built-in litter box cabinet. With a small door for the cat to enter and a larger door for cleaning access, your cat's litterbox can be hidden from guests. Even the smell can be minimized or eliminated through this method.  
Custom Homes in Greensboro Can Have Pet-Centered Designs Incorporated
If your pets are a priority in your family, keep them in mind when designing your new custom home. Don Mills listens to what families need and creates homes to meet those needs. Some of the finest custom homes in Greensboro in highly desired communities are original products of Don Mills Builders. Make sure your new home has everything your heart desires. Call (336)362-1777.
https://donmillsbuilders.com/wp-content/uploads/2017/08/DonMillsLogo-1.png
0
0
Don Mills Blog
https://donmillsbuilders.com/wp-content/uploads/2017/08/DonMillsLogo-1.png
Don Mills Blog
2018-12-20 17:46:38
2019-01-07 17:46:58
Pet-Friendly Features to Customize your New Home