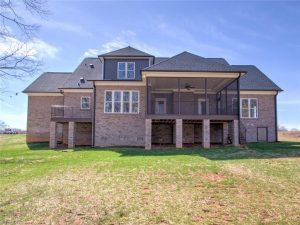 Having a custom home designed and built just for you is an experience like no other. You have the opportunity to create your dream home the way you want it to be. But in order to have the home you truly want, you need to find the right lot. There are many custom home lots in Greensboro available now in the most up and coming neighborhoods. How will you know which one is the right one? Follow these tips for finding an ideal lot for your custom home.
Choose a Desirable Neighborhood.

The first step in choosing one of the many desirable custom home lots in Greensboro is finding a neighborhood that fits your lifestyle. Drive through neighborhoods at different times of the day. Do you get a good feeling about the neighborhood? Are there sidewalks or any amenities like a pool or park? Think beyond the neighborhood to the community. Are the schools in the area good quality? Are there highways, commercial zones, train tracks, or any other potential for noise and traffic? Some prefer a quiet community and want to avoid these things, but others prefer the convenience of having these things close by.
Consider Lot Location and Orientation.

Once you have a neighborhood in mind, look at the different lots available. A corner lot may be larger but will experience more traffic. A lot close to the entrance of the neighborhood will be in a higher traffic area but will be more convenient. A lot on a cul-de-sac will be more private but may be wedge-shaped with a smaller front yard. These things may affect the design of your custom home.
Survey the Lay of the Land.

Is the lot flat or sloping? The lay of the land affects the structure of the home that can be built on it. Land can be regraded to an extent but starting with land that suits the home design you have in mind is certainly easier and more cost effective.
Observe How the Sun Will Shine on the Property.

Would you prefer that certain rooms get morning light, such as the kitchen or breakfast nook? Do you want a sunny or shady back deck or patio for afternoon/evening barbecues? Do you want bedrooms to be shaded in the morning for maximum potential for sleeping in? Consider which way your home will face in relation to the sun.
Locate Ideal Custom Home Lots in Greensboro with Don Mills Builders
When it comes to building custom homes, Don Mills Builders has years of experience in home design and lot selection. Whichever you decide on first, the lot or the design of your home, Don Mills can make both work together in harmony. Get the true custom home experience when you create your dream home with Don Mills Builders. No other home will be quite like yours. Call Don today to inquire about custom home lots in Greensboro: (336) 362-1777.
https://donmillsbuilders.com/wp-content/uploads/2017/08/DonMillsLogo-1.png
0
0
Don Mills Blog
https://donmillsbuilders.com/wp-content/uploads/2017/08/DonMillsLogo-1.png
Don Mills Blog
2019-01-10 13:57:27
2019-04-15 14:00:13
Tips for Finding an Ideal Lot for your Custom Home