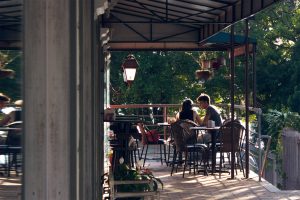 One of the key elements that goes into a fabulous patio is the lighting. Whether you like to entertain friends and family or you prefer a private space to enjoy the fresh air, your lighting scheme will help to create the right atmosphere. When designing original custom homes in Greensboro, homeowners are putting as much focus on outdoor spaces as the home's interior. If you plan to include a patio in your home design, consider these lighting ideas. 
String Lights. Whether large or small bulbs, strings of lights are an easy patio lighting concept that provides just the right balance between classy ambiance and sufficient lighting. String lights between poles, hang from a pergola, or drape along a fence to create a fun and inviting atmosphere.  
Garden Lights. These come in many different styles and shapes but are typically planted in the ground along walkways, in flower beds, and among bushes. Solar powered garden lights are popular because they can be placed anywhere without access to electricity, making them both convenient and green.  
Projected Lights. When you wish to highlight or draw attention to certain areas of your outdoor patio, projected lights shine in the direction you choose, creating a dynamic of light and shadow. 
Stair Lights. If your patio has steps it is a good idea to light them for safety as well as style. Small lights can be installed under or to the side of each step to light the way.  
LED Lights. Want to be on the cutting edge of style? LED lights are a popular trend for outdoor spaces. Install them under your outdoor furniture or under eaves and ledges for a contemporary look. Try neon colors to brighten up the space.  
Firelight. Nothing can compete with the natural beauty of firelight. Install a fireplace, fire pit, fire table, or any other type of wood burning or gas powered flame source. Your guests will naturally be drawn to its warmth and comfort.  
Candles. You can still enjoy the beauty of flickering candles outside when you use battery-powered types. A candle chandelier is convenient for outside where wiring can be a challenge. Place candles of different heights on tables and ledges around your patio.  
Lanterns. Old-fashioned lanterns, Japanese lanterns, railroad lanterns—any type of lantern creates a classic outdoor lighting concept that is comforting. A lantern always lights the way home.  
Don Mills Designs Beautiful Patios for Custom Homes in Greensboro
If a fabulous patio is on your list of must-haves for your new home, design and build your new home with Don Mills Builders. When it comes to custom homes in Greensboro, Don Mills builds luxurious new homes in up and coming neighborhoods in the popular northern Guilford County area. You can have an amazing patio space for any intended use, from parties to an outdoor yoga studio. A beautiful lighting scheme puts the finishing touch on your patio design, creating the ambiance and style you wish to achieve. Call Don Mills Builders to help you design your new home, complete with a custom outdoor patio space: (336)362-1777.
https://donmillsbuilders.com/wp-content/uploads/2017/08/DonMillsLogo-1.png
0
0
Don Mills Blog
https://donmillsbuilders.com/wp-content/uploads/2017/08/DonMillsLogo-1.png
Don Mills Blog
2018-12-03 17:46:12
2019-01-07 17:46:29
Patio Lighting Ideas