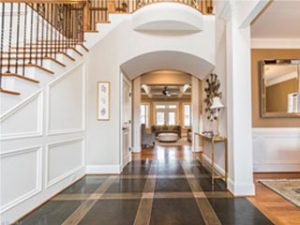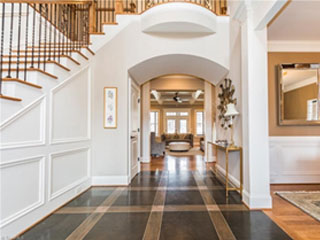 Are you planning a custom home? Whether you're just thinking about it or you're already in the design phase, you may be wondering what you should include. If you want the latest features and state of the art technology in your home, here are some of the most requested items that custom home builders in Greensboro, NC are getting from homebuyers.
Mud Room
A mud room has always been an important feature in a home, but the pandemic has made it even more necessary. When everyone comes in from outside, it helps to have a place to take off shoes and coats and hang up bags before entering the living area of the home. Having a sink in the mudroom is especially helpful so that everyone can wash their hands. This way all of the outside dirt and germs get left at the door and the rest of the home is cleaner and healthier.
In the Kitchen
The kitchen is one of the most important rooms in your home. It's where everyone gathers for meals every day. And if everyone is working and learning at home, the kitchen is busier than ever. Here are some features to make your kitchen more functional.
Under cabinet lighting. It helps to be able to see what you're doing on your counters, whether it's preparing food or drinks. LED lights under your cabinets can illuminate your workspace and make food prep more convenient.
Plenty of outlets. You'll need an outlet for every electrical appliance you use in your kitchen, so there's no such thing as too many. Toasters, toaster ovens, air fryers, food processors, waffle irons, griddles, sandwich presses, and more can make it easier to prepare a variety of foods at home.
Pot filler. When you need to boil water, filling a large pot with water at the sink and carrying it to your stovetop can be easier said than done. A pot filler is a water source right next to your stove for filling pots while they are sitting on the burner.
Island with seating. Kitchen islands are not going away. In fact, they are just getting bigger. Many families find it convenient to have seating directly in the kitchen, and a large island can feature a counter with stools.
In the Bathroom
Bathroom features and decor are becoming sleeker and more modern. If you want a luxury master bathroom, a spacious guest bathroom, and functional bathrooms for the kids, here are the features you'll want to include.
Freestanding master bathtub. Built-in tubs are a thing of the past. Your modern master bathroom should have a freestanding soaking tub to relax in after a long day.
Luxury master shower. Include space for a large walk-in shower with multiple shower heads in your master bath. You can even opt for a ceiling mount rain shower head to be fully enveloped in warm water.
Jack and Jill bathroom. For the kids, a jack and jill bathroom provides easier access from the bedrooms and reduces the number of doorways leading out into the hall. Incorporate a separate vanity and sink space from the bath and shower for easier sharing of bathroom time.
Plenty of storage. Storage in the bathroom is an absolute necessity for towels, personal toiletry items, laundry, cleaning supplies, and more. Make storage understated to blend in with the style of the bathroom and to reduce the bulky cabinet look.
Separate water closet. Having a separate closed off area for the toilet offers wonderful privacy in all bathrooms, including the master.
Outside:
Outdoor spaces are receiving more focus than ever in custom home designs. Builders in Greensboro, NC are helping homeowners enjoy the beautiful southern weather with custom designed patios and landscaping.
Covered patio. Elaborate stone and concrete patios and becoming more popular than wood decks because they last longer and require much less maintenance. Covered patio space is invaluable for shade and to protect patio furniture from rain and sun damage.
Outdoor fireplace. Include a large stone fireplace in your patio design with built in seating around it. This is a step up from the standard fire pit design.
Entertaining space. Take entertaining into account and place seating in different areas for strategic gathering spaces. Have stone pathways leading guests from one place to another so that there's a natural flow of movement.
Plants and trees can be planted accordingly to provide privacy and to create the right type of mood. Choose bushes and plants that are native to the area that will thrive without too much maintenance.
Pool and/or hot tub. These days people are staying more private and including pools and hot tubs in their backyards rather than using community pools.
Technology
To have a truly modern home, you need the latest technological features built in, such as:
Smart features. Smart homes are becoming the norm as homeowners are looking for convenience and every savings. Your home's systems can all be networked and controlled by a panel or device, including heating and cooling, lighting, water, door locks, and more.
Energy efficient appliances. If you want to save energy and money, purchase high efficiency appliances for your home from your HVAC system to kitchen appliances.
Built-in sound system. Have a speaker system built into your home that can play music, sound from the TV, and more in each room or throughout your home, even outside.
Don Mills Builders in Greensboro, NC Wants You to Have it All
If you're interested in building a custom home that will have every detail you want, Don Mills builders in Greensboro, NC designs truly customized luxury homes. A Don Mills original is not a spec home. Your home will be truly unique, designed to meet the needs of your family and include all of the latest features. Don Mills listens to your wants and needs and creates your home to have it all.
Call (336) 362-1777 today or request a consultation.
https://donmillsbuilders.com/wp-content/uploads/2017/08/DonMillsLogo-1.png
0
0
Don Mills Builders
https://donmillsbuilders.com/wp-content/uploads/2017/08/DonMillsLogo-1.png
Don Mills Builders
2021-03-10 12:59:19
2021-04-12 13:02:21
Must Haves for your New Custom Built Home