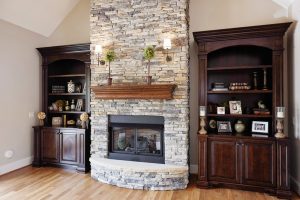 Open floor plans are the most popular type of new home floorplan when people buy custom homes in Greensboro and the demand for them isn't letting up. Modern families like open concept floor plans because it makes it easier to enjoy family time together. Open floor plans are also great for parents who have things to do but also want to keep an eye on their kids. They're also fantastic for entertaining. But did you know that open floor plans are also energy efficient and can help homeowners save money on heating and cooling costs?
Open floor plans reduce the energy needed to cool and heat a room because there are no walls or barriers breaking up the flow of the air through the room. That means it costs less to heat and cool your home when you have an open concept floor plan. As long as the outside walls are sealed and insulated properly, an open concept floorplan is the best way to heat and cool your home efficiently. There are a few other things that you can do to increase your energy savings as well like:
Place Large, Custom Windows Carefully
Large windows and skylights can brighten up your home and flood your open concept first floor with natural sunlight. New windows and skylights that are installed properly will be energy efficient and all that extra sunlight can help keep your home warm in the winter. Shades can help keep the sun from making it too warm during the hot North Carolina summers. The extra lighting and warmth can cut your energy costs over the course of the year.
Find Light Fixtures That Do Double Duty
Energy-efficient light fixtures are a must in a custom home. Installing light fixtures that have fans built into them will help circulate the air throughout the space and increase the energy efficiency of your home. Some people dislike the look of ceiling fans but light fixtures with modern designs, unique materials, and designer finishes will look great in your open concept kitchen and family room. Your home can have the style and look that you want while maintaining energy efficiency. Keeping the air circulating throughout the open-concept space will help regulate the temperature when there are a lot of people in the space as well.
Make Your Home A Smart Home
Another way to you can maximize the energy efficiency of a custom-built home is to make your home a smart home. Using smart home devices like the Amazon Echo and installing smart plugs throughout the house means that you can easily turn off lights and appliances from anywhere in the home or even when you're away from home using a smartphone app. Smart appliances are energy efficient and easy to manage, so consider choosing smart appliances when you are putting the finishing touches on your custom home.
Make Good Use of Your Fireplace
Many people who build custom homes opt to have a gas insert or electric fireplace put into the family area. This makes the family area of the open concept home a very inviting place to gather and it also will help to heat the entire first floor of the home. With no walls or barricades to keep the heat from moving throughout the space, the heat from the fireplace can be circulated through the room with ease. That will make your home a relaxing and energy-efficient space where you can enjoy quality time with friends and family.
Custom homes in Greensboro that are built around the needs of today's families are energy efficient and have a flexible space that will make your home function the way you want. Start planning your custom home in Greensboro today with the experts at Don Mills.
https://donmillsbuilders.com/wp-content/uploads/2017/08/DonMillsLogo-1.png
0
0
Don Mills Blog
https://donmillsbuilders.com/wp-content/uploads/2017/08/DonMillsLogo-1.png
Don Mills Blog
2019-05-24 15:59:23
2019-07-17 16:03:36
How Open Floor Plans Affect Energy Efficiency