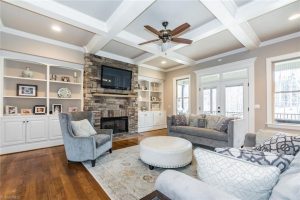 Many new homebuyers are going with custom homes in Greensboro. And why not? When you work with a custom home builder you have complete and total freedom to choose every detail in your home from floor to ceiling. One of the biggest decisions is flooring material, and one of the biggest rooms in your home is the living room. Consider these 7 flooring materials for your living room to achieve the look and feel you want.  
Hardwood. 

Still one of the most popular choices, hardwood stands the test of time from a style and beauty standpoint. Now available in more hues/stains than ever before, you can find a hardwood that will be unique and expertly match the rest of your décor. 

 

Carpet.

 Another popular choice for comfort and availability of colors, carpet is still being chosen for living rooms on a regular basis. For those who prefer to go barefoot inside and for families with babies and young children, carpet provides a soft floor for the main living area. Available in nearly every color you could imagine, you'll easily find one that matches your interior color scheme.

 

 

Laminate. 

A version of hardwood, laminate flooring is more durable than hardwood and more affordable, but it is not solid wood. Laminate flooring comes in panels that snap together to cover the surface. They offer a hardwood look at a lower price but may not look as polished as hardwood.

 

Vinyl.

 

Another afford

able option that looks similar to

 hardwo

od, vinyl has

 some great benefits. 

Softer than hardwood, it's easier on the feet, though not as soft as carpet. It is durable

, water resistant,

 and cleans up easily

.

 

Bamboo.

 Lately it seems that bamboo is quickly gaining popularity. A green choice, bamboo is a highly renewable resource, making it an eco-friendly material. The key here is to make sure you get good quality bamboo that won't scratch easily. 

 

Marble.

 If you're going for luxury, 

marble will certainly achieve a luxurious look. Shiny when polished and available in a variety of colors, marble floors are beautiful in formal living rooms and foyers. Marble does require maintenance and its porous surface is prone to staining, just another reason marble is best for formal areas of your home. 

But it will make your home stand out among custom homes in Greensboro. 

 

Ceramic or Porcelain Tile.

 Tile is another luxurious flooring material, available in ceramic or porcelain. Both are durable and clean up easily. The subtle difference between the two is that porcelain is manufactured in a way that makes it more durable.

 
Many 
Custom Homes 
in Greensboro
 Have Beautiful Flooring in the Living Room 
Choosing to work with a custom home builder opens up an array of options for interior décor. You can have the living room floor that will achieve the look you want for the main room of your home. Don Mills Builders designs and constructs custom homes in Greensboro that meet the needs of the family buying the home. Whether you need the ultra-soft comfort of carpet, the luxurious sheen of marble, or anything in between, the choice is yours. Call Don Mills today about building your dream home: (336) 362-1777.  
https://donmillsbuilders.com/wp-content/uploads/2017/08/DonMillsLogo-1.png
0
0
Don Mills Blog
https://donmillsbuilders.com/wp-content/uploads/2017/08/DonMillsLogo-1.png
Don Mills Blog
2019-05-06 15:12:57
2019-08-22 18:37:41
7 Flooring Materials to Consider for your Living Room