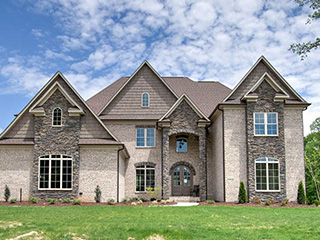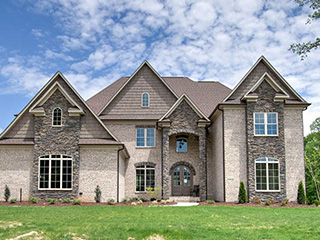 The best part about custom home building is the custom part. Being the decision-maker in the largest investment of your life also gives you control to make choices that impact your life and the environment. Choosing design options that are energy efficient not only saves you money, but can help lessen your home's impact on the environment. It can be as small a decision as choosing a faucet type to as large as choosing your home's roofing system. But the
best home builders in Greensboro
, will offer lots of choices and help you choose the right energy efficient option for your new home.
Home builders in Greensboro can install roofing systems that reduce energy use, utility bills
Home builders in Greensboro can install roofing systems that reduce energy use, utility bills
Energy-efficient roofing materials can significantly lower your home's energy use which in turn shrinks greenhouse gas emissions while trimming your utility bills. A cool roof reflects a large percentage of the sun. If you are seeking an alternative to existing or less expensive shingle options, cool coatings can be applied to your roof to increase reflection and reduce absorption. The best home builders in Greensboro can also provide tiles and painted metals, that are also options to increase sun reflection and reduce greenhouse emissions. Although one of the largest choices to lowering environmental impact, roofs are not the only choices you can make to reduce your home's carbon footprint.
Inefficient windows cause heat and money to leak right out of your Greensboro custom home
Single paned, poorly insulated, and ill-fitting windows can increase your energy usage and utility bills dramatically. Choosing energy efficient windows that are double-paned, insulated, tight fitting and come with a heat-resistant coating can reduce your energy consumption and costs. These windows are typically energy rated, so make sure you ask questions and understand the ratings so you can choose the most efficient option for your budget. While you're asking questions about windows, be sure you ask about energy efficient insulation.
Insulation prevents cool air and heat from seeping through the walls of your custom-built home
Choosing the right insulation before your home is built can reduce future costs of adding to it. While new homes have energy efficient guidelines, there are also different types of special insulation that can save energy usage by preventing air from seeping through your wall cavities. The Department of energy has a useful tool to determine type and placement of insulation should be placed in your new home. Although roofs, windows, and insulation are larger items that can save energy, don't forget the small stuff.
Efficient appliances and bathroom fixtures can reduce your Greensboro custom home's energy usage
It's easy to choose style over efficiency if you aren't aware of energy efficient options for appliances and water heads. Choosing appliances with energy ratings that are environmentally friendly also reduces utility bills through reduced energy consumption. Additionally, you can choose a slower flow rate faucet for your kitchen and bathrooms, and slower flow rate showerheads and toilets to utilize less water. The best home builders in Greensboro will offer a full-range of Energy Star appliances to choose from.
When designing a new home, you can integrate your style with design options to join your desires with energy efficient choices. Not only will you save money, you will save energy; what a great way to start your future. If you want more information on how you can improve energy efficiency, visit the government's tool here to input specific information and compare energy rates and usage in your area.
Once you have the information you need, the next step is finding one of the best homebuilders in Greensboro who understands energy efficient home design.
Choose Don Mills, One of the best home builders in Greensboro
When choosing Don Mills to build Greensboro custom homes, you're choosing one of the best home builders in Greensboro. Since 1988 Don Mills has had a reputation of being one of the finest in the industry. Let Don Mills answer your questions and walk you through how you can easily become an energy-efficient custom home owner.
Get started on your energy efficient home construction project today by calling Don Mills Builders for a free consultation at (336) 362-1777.
To learn more about energy efficient homes and home construction, check out these resources:
http://energy.gov/energysaver/insulation-new-home-construction
http://hes.lbl.gov/consumer/
https://donmillsbuilders.com/wp-content/uploads/2017/07/ft-img-greensboro-custom-homes.jpg
240
320
dmbuilders_admin
https://donmillsbuilders.com/wp-content/uploads/2017/08/DonMillsLogo-1.png
dmbuilders_admin
2017-07-12 06:13:46
2017-07-12 06:13:46
Greensboro Custom Homes: Design options to make your home more energy efficient