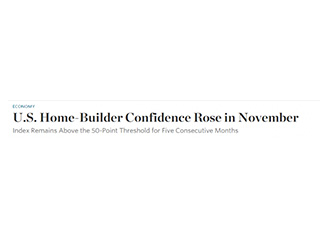 Now is a great time to contract with home builders in Summerfield, NC to build your own home. Ideal interest rates and steady job creation contributed to the steadily rising confidence of builders this November, 2014 according to the latest study conducted by the National Association of Home Builders.

The steady climb of home builders' confidence means that they are seeing an uptick on buyer interest and traffic. Ben Leubsdorf from the Wall Street Journal reported the statistics culled from the past few months:
An index of builder confidence in the market for new single-family homes rose by four points to a seasonally adjusted level of 58 this month, the National Association of Home Builders said Tuesday. A reading over 50 means most builders generally see conditions as positive.
The index jumped in September to 59, its highest reading since November 2005, then fell to 54 in October. Economists surveyed by The Wall Street Journal expected the index would tick up to 55 in November.
The index has remained above the 50-point mark for five consecutive months, said David Crowe, the home-builder group's chief economist. "Low interest rates, affordable home prices and solid job creation are contributing to a steady housing recovery," he said.
While the US house market has been struggling to regain sales momentum in the previous years, this uptick on home builders' confidence signals a resurgence of people's interest in buying their own homes.
Due to these favorable conditions on housing, this could be the perfect opportunity to browse for affordable new homes in North Carolina. While some people prefer condominium units over homes, building your own home definitely has advantages over renting a small space. If you choose to build your home from scratch, you have total control over every aspect of the look and feel of what you want in your home. With a home, you gain privacy, whereas apartments or condominium units are closer to the living spaces of others.
Although many homeowners have opted to 'make do' with their existing home, low interest rates and an improving economy make this an excellent time to go ahead and build a home perfectly suited for your family.. Custom home builders like Don Mills Builders, Inc. can help turn your dream home into a reality, and with an improved housing market, now is a good time for you to consider building a house.
(Source: U.S. Home-Builder Confidence Rose in November, The Wall Street Journal, November 18, 2014)
https://donmillsbuilders.com/wp-content/uploads/2017/07/ft-img-confidence-in-skilled.jpg
240
320
dmbuilders_admin
https://donmillsbuilders.com/wp-content/uploads/2017/08/DonMillsLogo-1.png
dmbuilders_admin
2017-07-12 08:17:37
2017-07-12 08:19:42
Confidence in Skilled Home Builders in Summerfield, NC Steadily Rising