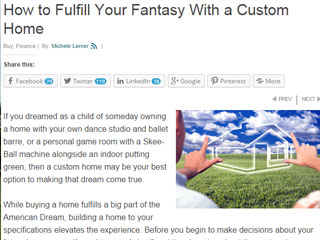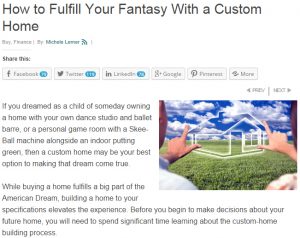 Buying a house and lot has its ups and downs. While a pre-existing home has its perks, it still has downsides. For one, they offer limited opportunity for customization, which would be a downside for people looking to own their true dream dwelling. Writing for Realtor.com, Michele Lerner provides an alternative:
If you dreamed as a child of someday owning a home with your own dance studio and ballet barre, or a personal game room with a Skee-Ball machine alongside an indoor putting green, then a custom home may be your best option to making that dream come true.
Thankfully, skilled local home builders in Greensboro, N.C. have been helping home buyers with building their own dream home, a place that is customized and designed according to their own vision, and thus can truly call it their own—from top to bottom. Before getting down to the business of customizing your home, consider some of these factors:
Finances – A large-scale financial undertaking, such as building a custom home, shouldn't be pushed through without sound planning and design. Expenses concerning land, building permits, utilities, and professional services need to be settled before starting the project.
It is important to include the construction site, as well as the logistics of the design of the house or its architectural style into the overall budget. Building in haste without a solid game plan on design, budget, and schedule will result in a lot of wasted effort and runaway expenses.
Location – For this one, a homebuyer's personal preference should be the primary guiding principle. A homebuyer should decide beforehand the type of community and specific location that would seem best to suit his or her lifestyle; if an individual is an avid surfer, for instance, a seaside location would be perfect.
Style – This is where the customer and the builder should work hand-in-hand. There's virtually a limitless array of options when building custom homes—some of which may be purely personal in nature, while others may be dictated by the community. Still, what matters is the customer's personal input on the kind of home he or she may want to build.
Avoid last-minute changes – Planning is absolutely critical. By making even the slightest changes after everything is nearly done, an owner could be looking at significant works, which would add up to the project expenses.
Building custom new homes in North Carolina is a major undertaking, but if a homebuyer should be conscientious enough to take some of these factors in mind, chances are the building project should go quite smoothly every step of the way.
https://donmillsbuilders.com/wp-content/uploads/2017/07/ft-img-some-good.jpg
240
320
dmbuilders_admin
https://donmillsbuilders.com/wp-content/uploads/2017/08/DonMillsLogo-1.png
dmbuilders_admin
2017-07-12 08:20:09
2017-07-12 08:20:09
Some Good Advice before Building Custom New Homes in North Carolina