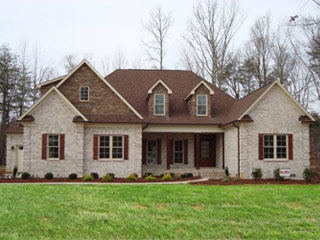 Thinking about building a new home in Greensboro? Now, may be the perfect time. Sales for new homes in our area showed a nice increase in 2015, and 2016 is off to a strong start. So how do you begin? When building a new home, most people rank lot selection as the top priority, and while location is important, choosing the right builder to handle the job is equally vital. Here are a few key points about home construction along with a few essential tips to guide your decision-making.
New Homes – More than Structures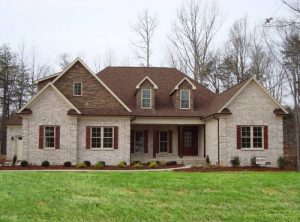 When you envision your new home, whether here in Greensboro or elsewhere, we are guessing that you focus on more than how the walls, floors and rooflines will look. If you're like most of us, a home represents your dreams, helps define and enable your lifestyle and embodies your hopes for the future. When envisioning your new home, you will see your family enjoying breakfast in a sunny kitchen, or reading by the fireplace. You may even see your grandchildren at play in a cozy playroom. If you are building a home for the first time, it's a chance to create spaces that are truly personal and functional for the way your family prefers to live, relax and play. You will want to work with a builder who is comfortable with customizing, and is open to your specific design ideas, or wishes. Most importantly, you will want to find a builder who can share your vision for the final version of your new home and how it fits into the Greensboro community and landscape
More than Blueprints
Constructing a new home is a complex matrix of planning, zoning issues, timing, budgets, materials, permits, subcontractors, approvals and finish work. Everything has to be right, especially the sequencing. A builder who is experienced in managing the details of the different procedures and requirements, and who is proficient in scheduling and directing work flows, is likely to be more time and cost efficient. We like working with good estimators too. There is minimal material waste, fewer cost overruns—and almost no budgetary surprises.
More than a Home Builder
All those multiple steps and processes involved in building a new home require time, and throughout the many processes your builder should be your advocate, and your partner, looking out for your best interests every step of the way. When selecting a builder, remember, you will be working with this individual for up to six months or more, so compatibility and trust should be considered along with general contracting skills. Will you feel comfortable collaborating with this builder over the long term? Can you rely on this builder to consult with you when problems arise, or before making on-the-spot decisions? Does this individual enjoy a positive relationship and show good direction capabilities with subcontractors, vendors and local zoning officials and building inspectors?
New Home Builder's SOP
SOP refers to Scope of Responsibility, and for the new home builder, that scope is wide. It encompasses hiring, managing and paying subcontractors; ensuring all subcontracted work is up to code; tracking costs, submitting payments, providing lien clearances for all completed work, scheduling inspections and much more. Because each of the responsibilities requires accuracy and timely execution, the builder's experience can be a plus. Every home builder in Greensboro was once a new home builder, so rather than dismiss someone who is just starting out in the business, look at their overall experience in other areas to evaluate their qualifications for your new home project.
Builder Portfolio
What other new homes has this individual built in the Greensboro area? Take the time to request a portfolio and recommendations from past clients. Ask to preview any projects that are currently in construction, or recently completed. The professionals at Don Mills invite anyone who is looking for homes for sale in Greensboro, to visit the Greensboro new home communities of Birkhaven, Hartman Farm, Stonebridge, and Beacon Hill, as well as other specific new home communities in the Greensboro and Oak Ridge and Summerfield areas.
Whatever your vision for constructing a new home in Greensboro, Don Mills Builders can integrate your preferences and needs to create a quality structure that will endure through the generations. As you plan your new home in the Greensboro area, every detail will be taken into account so you will get the home and style you have always dreamed about. Don Mills Builders builds distinguished and personalized homes that will give you and your family many years of comfortable living and wonderful memories. Contact us today to learn more about our custom home design and discover why we are one of the top building contractors in Summerfield at 336
https://donmillsbuilders.com/wp-content/uploads/2017/07/ft-img-choosing.jpg
240
320
dmbuilders_admin
https://donmillsbuilders.com/wp-content/uploads/2017/08/DonMillsLogo-1.png
dmbuilders_admin
2017-07-12 03:43:45
2017-12-21 18:53:07
Choosing a Home Builder in Greensboro, NC