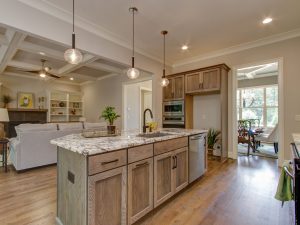 For many people, the kitchen is the heart of the home. This is a room that gets used nearly every day, and it is often a gathering point for everyone in the family. If you love to cook, you might not be satisfied with a standard kitchen – you may have your sights set on a "gourmet kitchen". But what does that mean? This article will highlight some of the features commonly seen in a kitchen that rises to gourmet standards.
To work with a builder who has created many of the best custom homes Greensboro has to offer, contact Don Mills today to get started.
Start with Space
The experience of cooking is greatly improved when ample space is available to do your work. Trying to prepare complex meals in a cramped kitchen is hard to enjoy. So, one of the first points that you'll look for when designing a gourmet kitchen is plenty of counter space on which to work. That could come in the form of counters up against the walls of the kitchen, and it will also likely include a kitchen island.
In addition to counter space, having plenty of room to move around in the kitchen from place to place is an important element. Do you like to cook with family or friends? Doing so in a spacious kitchen where everyone can flow around without any trouble is a great way to spend your time.
Look to the Appliances
With the layout of the kitchen established, the next step toward a gourmet kitchen of your dreams is picking out the perfect appliances. You'll want to feature high-end, quality appliances in this kind of kitchen, which will elevate not only the performance of the space, but the look, as well.
It's important to remember that you are not restricted to the standard set of appliances that you find in most kitchens. An oven, microwave, and dishwasher are a great starting point, but other components can be added, as well. For instance, many gourmet-style kitchens include a second oven without a range, so making large meals for events like holidays is significantly easier.
The Little Touches
As the design and equipment for your kitchen round into shape, you'll want to consider the small finishing touches that can really make this a great place to cook. These kinds of touches can come in all shapes and sizes, and they will largely depend on how you like to prepare food. Maybe you want to add an additional sink – perhaps in the island – to have more options. Or, you could add a tap behind the range with a spout specifically for filling large pots easily on the stove.
Keep in mind storage at this last phase of the process, as well. It's possible to incorporate a hanging rack for pots and pans, or some specialized cabinet spaces for various kitchen tools and small appliances. By working with a builder who specializes in custom homes in Greensboro, it's possible to bring even the grandest kitchen vision to life.
https://donmillsbuilders.com/wp-content/uploads/2017/08/DonMillsLogo-1.png
0
0
Don Mills Builders
https://donmillsbuilders.com/wp-content/uploads/2017/08/DonMillsLogo-1.png
Don Mills Builders
2020-11-12 12:34:24
2021-04-12 12:36:57
What's the Difference Between a Kitchen and a "Gourmet Kitchen?"