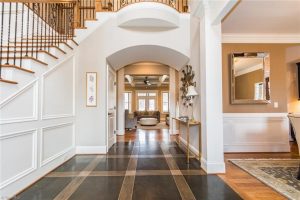 Planning to build a new home in 2018? Custom home building in Summerville, NC, is at an all-time high. More homebuyers are throwing in the towel on house hunting and opting for custom homes. What's not to love about a brand new home that is designed and built to your very own specifications? No need to compromise on a home. You can have whatever your heart desires. Before you start planning with your builder, gain some inspiration with these up and coming home building trends for 2018.
Structural Features
Aging-in-place accommodations. More seniors are choosing to stay in their homes as they age. Taking this into consideration when designing your home allows you to be prepared for the future and avoid having to make changes later. Wider doorways, wheelchair-friendly bathrooms, and even elevators are being installed in new homes proactively.
Multi-generational planning. In many cases multiple generations are living under one roof from aging parents to grandchildren. It's wise to plan ahead for the fact that family members of all ages may one day be under your roof.
Roof decks. This urban feature is suddenly popping up in residential areas as homeowners search for new ways to enjoy the outdoors in style (and with a view).
Decorating Trends
Light toned floors. Style is turning away from dark wood floors and moving toward lighter tones, even white in some homes.
Bold walls. To offset the pale floors you'll see an increase in dark paint colors on walls, including black for those who aren't afraid to be a little edgy. Large patterns are also making a comeback on walls and accessories.
Simplistic kitchen features. Cabinetry used to be the focal point of every kitchen. In 2018 you can expect to see more open shelving that allows you to showcase your collectibles and store bulkier items.
Metallic decor. Shiny brass accents are coming back into style for their attention-drawing properties.
Green Décor
Natural bathrooms. A turn toward green and rustic features will be seen in bathrooms this year from natural wood accents to claw-foot tubs.
Reused/Recycled furniture. Common items, old pallets, and more can be turned into furniture, and this concept is as trendy as it is environmentally friendly.
Live plants. Actual greenery is being used in décor much more as of late and will be seen even more in the upcoming year.
Energy-Saving Technology
On-demand water heaters. These heat water as it comes into your home so that you never run out of hot water. They also save a significant amount of energy because they don't heat (and keep heating) a tank full of water you may never use.
Programmable lighting. Also known as smart lighting, this energy-saving convenience allows you to easily control all of the lights in your home from one place and to program your lights to turn on and off at certain times of the day whether you are at home or away.
Keep an eye out for these trends in custom home building in Summerfield, NC, in the upcoming year. If you're planning to build or even thinking about it, keep these ideas in mind and contact Don Mills Builders to set up a consultation: (336)362-1777.
https://donmillsbuilders.com/wp-content/uploads/2017/08/DonMillsLogo-1.png
0
0
Sean Creedon
https://donmillsbuilders.com/wp-content/uploads/2017/08/DonMillsLogo-1.png
Sean Creedon
2017-11-24 17:00:03
2018-01-24 17:00:19
Up and Coming Home Building Trends for 2018