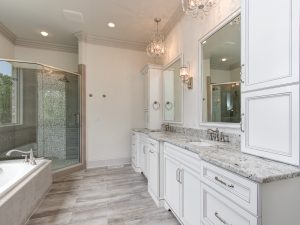 Thinking this is the year to build a custom home in Greensboro? Don't miss out on the hottest home styles of 2018. Check out these ideas before you talk to your builder so that you can be sure your new home incorporates the latest trends.
Wood. You don't have to build a log cabin in the mountains to enjoy the beauty of natural wood in your home. Hardwood floors have been a staple in custom homes for years. Now wood ceiling beams are making a comeback, as well as wood paneled accent walls and ceilings. Forget the faux wood paneling of the 70s and 80s that darkened rooms with shag carpeting. This year's quality wood accents are framing large windows to let in natural light.
Earth Tones. Color pallets are moving toward warm, earthy tones. Dessert tan, rust, clay, sienna, and more are being used in not just living rooms, but bedrooms as well. Bathrooms trend toward cool tones like dusty blue, charcoal, plum, and evergreen. Natural colors last longer, requiring less repainting and touching up over time. They also create a warm and relaxed feel.
Retro/Vintage Accents. Brass and other metallic tones on fixtures, décor, and even furniture are coming back into style this year. Glass tables with brass legs, aged copper wall art, and other metal accent pieces can be placed throughout the home. Vintage light fixtures, old fashioned trough sinks, and claw foot bathtubs are also gaining popularity.
Geometric Shapes. You'll find wallpaper, backsplash, art, light fixtures, fabric, and more in large geometric patterns this year. Yet another nod toward retro style making a comeback.
Big, Bright Kitchens. There seems to be no limit to size and sprawl of kitchens these days. The bigger the better, sometimes rivaling the size of living rooms. Exaggerated kitchen islands with room for seating, prepping, washing, and even cooking with built in stovetops and sinks are becoming a staple in modern kitchens. Go bold with color schemes as well, not just on the walls but on cabinets, backsplash, counters, and even appliances.
Green Homes. You've seen this trend in recent years, and it continues into 2018. Homebuyers and builders are becoming more and more environmentally conscious and it shows, even in custom home building. Building a green home can include anything from recycled building materials to establishing minimal energy usage with efficient appliances. Even the structural design of the home itself can diminish energy usage with plenty of natural light and conscientious airflow planning.
Smart Home Technology. It's time to get smart with a whole-home control system that encompasses security, electricity, plumbing, climate, media, and any other system, all controlled centrally in the home or remotely from a handheld device. Having complete control over your home whether you are there or not offers you incredible peace of mind as well as energy savings.
Build a Custom Home in Greensboro This Year with Don Mills
If you're ready to put these new design trends into practice in 2018, Don Mills Builders can make it happen. Bring your ideas, your hopes, and your dreams and let Don Mills design and build your custom home in Greensboro on a site in one of the most desirable new neighborhoods. Don't wait, get started today. Call (336)362-1777.
https://donmillsbuilders.com/wp-content/uploads/2017/08/DonMillsLogo-1.png
0
0
Sean Creedon
https://donmillsbuilders.com/wp-content/uploads/2017/08/DonMillsLogo-1.png
Sean Creedon
2017-12-15 16:16:03
2018-02-07 16:17:34
Current Home Styles-What's "In" in 2018?