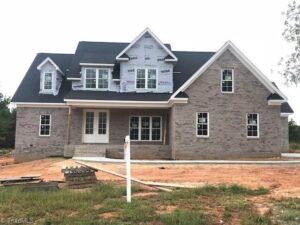 Building a custom home is an exciting, and potentially intimidating, experience. When all is said and done, you'll be left with a home that can be a source of pride in your family for generations. However, there can be some bumps in the road if you aren't prepared, so this article is going to look at some helpful tips that may allow you to better enjoy the process while waiting for your new house to be finished.
When looking for Greensboro homebuilders that are up to this challenge, put Don Mills at the top of your list. Already responsible for many beautiful Greensboro custom homes, Don Mills has an excellent reputation and the ability to bring any type of custom home project to life. Call today to learn more.
1 – The Small Issues Will Pass
It's easy – and understandable – to get caught up in the small issues along the way while going through this process. The little things that are going to be temporary problems during a building project, like a delay in getting a delivery of materials, are frustrating and can lead some home buyers to get frustrated and stressed out. Do your best to avoid that outcome. There are sure to be some issues that pop up, but working with an experienced home builder like Don Mills will allow your project to stay on track despite those little hiccups.
2 – No – The House Isn't Too Small
There is a common feeling that pops up among homeowners while their custom home is under construction – it's going to be too small! When your house is nothing but 2×4 framing, you might have hard a time picturing everything fitting inside when all is said and done. Fortunately, this is just an optical illusion. Without the walls finished, you can see right through the house – and the interior spaces feel small and cramped. Once the drywall goes up and the rooms start to take shape, it will feel as it should, and you'll be able to relax.
3 – Budget for Landscaping and Finishes
At the start of your custom home project, you are going to put together a budget that covers the cost of building the home of your dreams. That's great, but don't forget that there will be other expenses involved in this project. Specifically, you'll need to take care of the landscaping on your property, and you will likely need to manage plenty of finishes on the interior (like window coverings, for example). Build those expenses into your plan so you aren't caught off guard when you are getting ready to move in.
4 – Nothing is Perfect
Let's be honest for a moment – no project, no matter how beautiful, is going to be "perfect". The real world never quite matches up with the expectations we have in our minds, and there are sure to be things you wind up regretting about your new custom home. Make no mistake – the home will still be a great place to live, but there will be some things you'd like to go back and change in the end. The sooner you can accept that reality, the sooner you'll be able to relax and enjoy the experience of creating a new house for your family.
5 – Be Present for the Process
If at all possible, come by the property where your house is being built regularly, just to enjoy seeing the progress come together. There is a good chance that this will be the only time in your life you build a custom home, so it's worth your time to visit on occasion and appreciate how much work goes into it. Enjoy your new home!
https://donmillsbuilders.com/wp-content/uploads/2017/08/DonMillsLogo-1.png
0
0
Don Mills Builders
https://donmillsbuilders.com/wp-content/uploads/2017/08/DonMillsLogo-1.png
Don Mills Builders
2023-01-26 15:10:34
2023-01-26 15:10:34
5 Things I Wish I Had Known Before Building a Custom Home