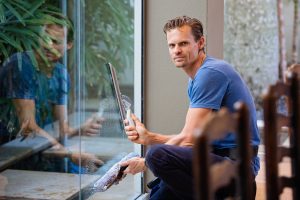 When you have a Greensboro custom home built you will get the peace of mind of knowing that the new construction home is in great shape and won't require any work. But even when you have a newly built home there are some yearly maintenance chores that you will need to do in order to keep that home in great shape and help ensure that the roof, windows, and other materials will last as long as possible. A few of the most important yearly maintenance chores that you should do on your home include:
Pressure Wash The Roof and Siding
This is usually done in the fall but it can also be done in the spring. Getting your roof and siding pressure washed in the fall will remove layers of pollen, dirt, dust, and other debris from your home that have build up over the summer. It also is a good chance to have a professional check your roof and your siding for damage, cracks, or holes that need to be fixed before the cold weather comes. If you have your home pressure washed in the spring it's a good opportunity to see if the winter has done any damage to your roof or siding that needs to be fixed in order to avoid problems during the rainy spring season.
Clean the Gutters
The gutters on your home should actually be cleaned twice a year, in the fall and in the spring, but some homeowners prefer to just do it once a year. If you have a lot of trees near your home, it's better to get the gutters cleaned twice a year to remove all the leaves that fall in the gutters and clog them. Getting your gutters cleaned helps to remove sticks, leaves, and other debris while also dealing with any pests or insects that have taken up residence in the gutters.
Get Your HVAC System Checked and Maintained
During the fall and the spring in North Carolina, it's not uncommon to need both your air conditioning and your heat on the same day. And during the summer you definitely need your AC to be working as efficiently as possible to keep the hot summer sun at bay. That's why it's important to get your HVAC system checked regularly at least once a year and have regular maintenance performed. HVAC problems can be expensive to fix so catching them early can save you money and make sure that you are always comfortable inside your custom home.
Get Your Plumbing Checked and Drains Cleaned
Your plumbing and drains should also be checked once a year to clear out any clogs and make sure there are no small leaks deep in the plumbing that you don't know about. Small leaks could let water leak into your walls or ceilings for months before you even know they are there. But that water buildup could help mold grow deep within your home. Clogged drains and burst pipes can cause major damage to your home, but if you get your plumbing checked and your drains cleaned on a regular basis you can avoid expensive and potentially catastrophic plumbing emergencies in your new home.
Get Your Windows Washed
Your Greensboro custom home will have brand new energy-efficient windows in it that should last for decades. But those windows do require a little maintenance. It's a good idea to get your windows cleaned once a year to have someone clean the frame and the area around the window as well as the glass. They should also check the glass for pits, cracks, or etching and fix minor damage to the windows before it becomes a big problem
For more advice on keeping your home looking and functioning like new call Don Mills Builders today.
https://donmillsbuilders.com/wp-content/uploads/2017/08/DonMillsLogo-1.png
0
0
Don Mills Blog
https://donmillsbuilders.com/wp-content/uploads/2017/08/DonMillsLogo-1.png
Don Mills Blog
2019-06-28 16:35:42
2019-07-17 16:41:47
Yearly Maintenance Tips for Your New Home