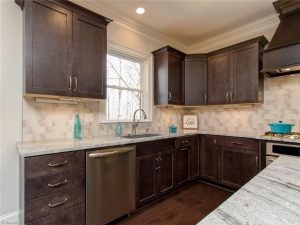 When you build a custom home, you want it to be on the cutting edge of style. Kitchens and bathrooms are always a main focus when it comes to décor, and countertops can make a big statement in those rooms. Counters make up a large portion of the surface area in a room. The color and material you choose can be the starting point for the rest of the décor. Countertop trends can be categorized by material, finish, pattern, and color. Discuss these countertop trends with your custom homebuilder in Greensboro, NC to determine which would be best in your new home. 
Material: Quartz. Move over granite; quartz is the new countertop material in town. Quartz offers a similar look to granite but eliminates the drawbacks of granite. Unlike granite, quartz is non-porous so it doesn't require sealing and periodic resealing. It won't stain because it is liquid-resistant. And it is more sanitary, because there are no microscopic pores for bacteria to grow. This lower maintenance material is quickly replacing granite and other previously more popular countertops.  
Finish: Matte. Shiny countertops do look beautiful, but only when kept in pristine condition. In a high traffic kitchen or bathroom, pristine condition is difficult to achieve and maintain. A matte finish, sometimes referred to as "honed" or "leathered" offers a unique look and texture that helps to disguise messes like water and fingerprints as well as scratches or marks. Honed is less glossy than a polished finish, but still feels smooth. Leathered is also less glossy than polished stone, but the texture feels similar to leather and shows off more of the stone's natural color.  
Pattern: Veined. Manufactured stone countertops may not naturally include patterns, but they can be added to the design. Granite countertops tend to have particulates of varying color and size naturally occurring throughout. However Quartz, a manufactured countertop material, can be patterned with veins like those that occur in marble for a natural, upscale look.  
Color: Neutral. In recent years countertop trends were leaning toward bold and dark colors. Current trends are now heading back to the neutral zone with light grays and beiges. Softer tones are easier to design your kitchen or bathroom around, opening up many other options for cabinets, backsplashes, sinks, floors, and wall colors. Neutral colors are also best for resale. 
Find a Custom Homebuilder in Greensboro, NC who can Include the Latest Trends in your Home
If you want your kitchen and bathrooms to be in tune with current trends, you need a builder who stays informed about latest styles and is willing to listen to your ideas. Don Mills Builders does both of these things, listening to customers about what they want and recommending the most up-to-the-minute style trends available. Countertop materials, finishes, patterns and colors are constantly evolving, so choose something that will stand the test of time and create the beautiful kitchen or bathroom you've always wanted. Work with an experienced custom homebuilder in Greensboro, NC with decades of experience designing and building luxurious homes. Call Don Mills Builders: (336) 362-1777.  
https://donmillsbuilders.com/wp-content/uploads/2017/08/DonMillsLogo-1.png
0
0
Don Mills Blog
https://donmillsbuilders.com/wp-content/uploads/2017/08/DonMillsLogo-1.png
Don Mills Blog
2019-04-25 15:20:09
2019-06-06 15:25:36
Countertop Trends in Custom Homes