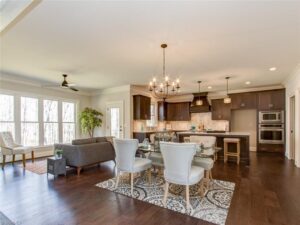 Moving is no fun. Not only do you have to go through the extensive work involved in packing everything up and hauling it to a new location, but you have to leave countless memories behind in your old home. Fortunately, by building a new custom home that is perfectly designed to your specifications, you can make this next move your last one.
Don Mills is one of the leading luxury home builders in NC. By working with Don Mills, you'll have access to a team that has built many luxury homes in the area, and you can trust their experience to deliver a finished product that will be in your family for generations. Reach out to Don Mills today to learn more.
Three Big Keys
If you are going to build a custom home that will serve your needs throughout the rest of your life, there are plenty of important points to consider in the planning and designing process. Specifically, keep the three keys below in mind –
Location. The one thing you will not be able to change about your new home is its location. Once you pick a lot, there is no changing that – so make sure the location is ideal for the needs of you and your family for many many years to come. It may take a while to find the right piece of land in the right location, but it's worth it to be very patient. You'd rather keep looking until you can get into the right spot than settle early in the process and feel the need to move in a few years.
Accessibility. As you age, certain features of your home's design may become harder to use. For example, a master bedroom suite that is located upstairs could be hard to access every night. With the idea of living in this home for many years to come, consider building the master suite on the main level, even if you don't need that currently. This and other accessibility considerations, such as a walk-in bathtub or shower will make it more likely that you can stay in your home for the long run.
Size. Getting the size right on your new custom home can be tricky. While you want enough space to accommodate your current life, you also want to avoid overbuilding and needing to maintain a home that is much too large for your life in the future. Work closely with your builder to settle on a floor plan and square footage that balances near- and long-term considerations. With certain home floor plans it is easier to close off parts of the house or change a bedroom into an office. Your custom home builder will be able to advise you on what floor plan will be more adaptable.
Other Factors
If you hit on the three points we listed above, you should be in good shape with your new custom home project. With that said, there are some other things to think about, such as whether or not you want to include room for a home gym. Also, if you have any hobbies that require space around the house for projects and the related equipment – like woodworking or crafting – be sure to keep those in mind. With enough time spent in the planning phase, you should be able to go into the building phase of this project with confidence, knowing that the finished product will be something you can love for a very long time.
https://donmillsbuilders.com/wp-content/uploads/2017/08/DonMillsLogo-1.png
0
0
Don Mills Blog
https://donmillsbuilders.com/wp-content/uploads/2017/08/DonMillsLogo-1.png
Don Mills Blog
2022-03-18 21:10:07
2022-03-18 21:10:07
Never Move Again – Your Happily-Ever-After Custom Home