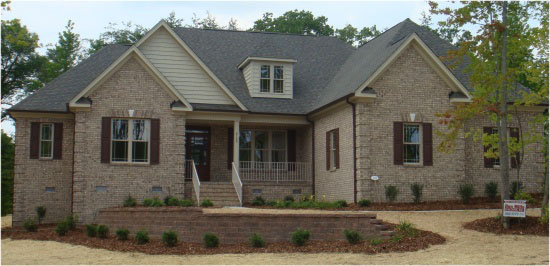 Are you planning to have a custom home built in the Greensboro area? There are many advantages to incorporating energy efficient features into your home design. You'll save money on your monthly utility bills and you may even qualify for tax incentives when you make energy efficiency a priority. Your home will be more comfortable throughout the year. You'll also reduce your carbon footprint, protecting the environment from the negative effects of modern living. When considering Greensboro custom homes, try some of these energy efficient home building ideas. 
High-Efficiency Heating and Cooling System. On average, about half of the energy usage in most homes comes from the HVAC system. Consider a high-efficiency furnace and air conditioning unit in your new custom home and you'll experience years of lower energy bills. 

 

Appliances and Electronics. Refrigerators, washers and dryers, ranges, dishwashers, televisions, computers, and more all come in Energy Star and other energy-efficient brands. With homes being so overrun with technology these days, paying more up front for high-efficiency appliances will save you money in the long run.

 

Lighting. There's a reason many people refer to their energy bill as their "light bill." Lighting is another big energy drain in your home. Design your home to let in plenty of natural light, including features such as large windows and skylights. The more natural light you incorporate, the fewer hours of the day you'll need artificial lighting. And when you do need the lights, use energy efficient light bulbs such as LED bulbs. 

 

Insulation. When your home is properly insulated you'll save even more energy because your heating and cooling system won't have to work as hard to keep your home comfortable. Double-paned windows and weather stripping around doors also help to keep indoor air in and outdoor air out. 

 

On-Demand Water Heater. Wouldn't it be nice if you never had to worry about running out of hot water? An on-demand water heater heats the water as it comes in on an as-needed basis. These water heaters are also referred to as "tankless" because they don't heat water and hold it in an insulated tank until it is needed. Traditional water heaters waste energy keeping water warm so that it's ready, whether you need it or not. Tankless water heaters are more expensive, but the convenience and energy savings are worth the cost. 

 
Don Mills Designs Energy-Efficient Greensboro Custom Homes
If saving energy is a priority for you, design and build your new home with Don Mills Custom Home Builders. Don Mills designs Greensboro custom homes with top rated energy-efficient features that will save you money. From high-efficiency appliances to natural lighting to excellent insulation, a Don Mills home will keep your costs low and your comfort level high. Call (336)362-1777 to start designing your energy-saving dream home.
https://donmillsbuilders.com/wp-content/uploads/2017/08/DonMillsLogo-1.png
0
0
Don Mills Blog
https://donmillsbuilders.com/wp-content/uploads/2017/08/DonMillsLogo-1.png
Don Mills Blog
2018-10-04 17:43:44
2019-01-07 17:43:58
Energy Efficient Home Building Ideas