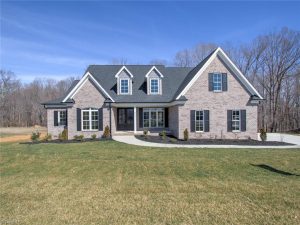 Some homeowners know exactly where they stand when it comes to this choice. But if you've ever found it difficult to decide between buying a brand new home vs. an older home, here are some things to consider that will help you make an informed decision. When looking for homes for sale in Summerfield, NC you'll find many different homes built in various decades, newly built homes, and even ready home sites for custom building. Let's explore the differences.
Brand New Homes are Fresh, Current, and Customizable to Your Liking
There's something exciting about being the first people to live in a home. Everything is so clean and shiny. You have a fresh canvas to decorate as you please. New homes are equipped with the latest technology when it comes to everything from smart home systems to energy efficient design and appliances. Plumbing, electrical wiring, insulation, foundation, structure—all are up to current codes. Newer homes also tend to be bigger, as size is a big factor for today's homebuyers.
At the same time, new homes tend to have smaller, less mature lots; though this is not always true, depending on the neighborhood and builder you choose. New homes may have a few kinks that need to be worked out since no one has lived in the home yet. However, most new homes come with a one-year warranty that covers anything that isn't performing up to standard. A new home may also settle in the first few years after it's built, requiring repairs of cracks in walls and doorways or worse, foundation repair. New homes are sometimes priced higher than older homes.
Older Homes Have Charm and Maturity
An older home has stood the test of time. You can tell that its structure and foundation are good quality, which can be proven through a home inspection that is a necessary part of any home purchase. Classic homes have the architecture and style of the time period in which they were built, which gives them character. Bigger lots with mature trees and landscaping offer beauty and privacy. Older homes in established neighborhoods are less likely to experience changes. You may also save some money by purchasing an older home.
The old home charm can sometimes be overshadowed by problems that can accompany older homes. Plumbing and electrical wiring may be old, meaning problems like water pressure, leaky old pipes, and lack of electrical outlets and voltage to support today's technological needs. Avoid these issues by looking for an older home that boasts "recently updated" features. You'll likely find less storage and smaller closets in an older home. And they also tend to have less overall square footage and smaller rooms.
Hunting Homes for Sale in Summerfield, NC
In highly desired areas like Summerfield and northern Guilford County, new homes and home sites are currently available. Take advantage of the benefits of brand new homes for sale in Summerfield, NC. Recently completed Don Mills homes and new home sites are available now in up and coming neighborhoods. Call (336)362-1777.
https://donmillsbuilders.com/wp-content/uploads/2017/08/DonMillsLogo-1.png
0
0
Don Mills Blog
https://donmillsbuilders.com/wp-content/uploads/2017/08/DonMillsLogo-1.png
Don Mills Blog
2018-01-05 19:05:24
2018-05-03 16:05:05
Buying a Brand New Home vs. an Older Home