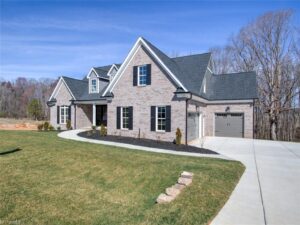 If a new custom home is on your agenda, you probably want to work with one of the best home builders in NC. And why not? This is a home you will want to potentially remain in your family for generations, so it should be built to the highest of standards. But how do you decide what makes a great home builder? Looking only at the new home construction leaders in terms of total houses built may miss the point, so this article will highlight some other keys.
To work with a proven North Carolina home builder with a track record of producing beautiful luxury homes, contact Don Mills right away.
The Problem with Volume
It's easy to understand the temptation of looking only at the number of houses constructed when trying to determine the best home builders in NC. After all, if buyers keep purchasing houses from a certain builder, that means they are one of the best – right? Not so fast. There are a number of factors involved with determining how many homes a builder can create, but none of those factors have anything to do with being the "best".
Rather, it's all – as always – about money. If a builder has significant financial backing to take on large development projects, that builder is going to rack up a high volume of completed homes, regardless of the quality of those homes when they are finished. If you choose your builder based solely on how many houses they have built around the area, you may be in for a big disappointment when you see the quality of the work they offer.
More Important Considerations
So, if you can't look to volume to tell you what builder is the best for your project, where should you turn? Try these various considerations instead –
Past client satisfaction. Ask a builder to connect you with owners of some of the previous homes they have built so you can get a feel for how the process went and whether the builder met expectations. Doing good work in the past is a strong indicator that a builder will repeat those results in the future.
A proven process. When building a custom home, you want to work with a builder that knows how to go from a bare piece of ground to a beautiful, luxury home that will stand the best of time. If a builder doesn't have the right experience, or doesn't have the right team in place, they may struggle to help you bring your ideas together into a design that suits your needs and fits in your budget.
Reputation for luxury. It's one thing to build a home that will pass inspection and live up to basic expectations – it's another thing entirely to build a luxury home that will impress any buyer. That's what you get from the best home builders in NC, and it's easy to spot the builders that belong in this conversation when you view some of the other properties they have created around the area.
Don't simplify your search for a home builder down to the basic metric of who has built the most houses. That might be an easy way to go, but it could lead you in the wrong direction. Dig a little deeper to determine which area builder has the experience and commitment to luxury needed to get the job done.
https://donmillsbuilders.com/wp-content/uploads/2017/08/DonMillsLogo-1.png
0
0
Don Mills Blog
https://donmillsbuilders.com/wp-content/uploads/2017/08/DonMillsLogo-1.png
Don Mills Blog
2022-02-18 20:43:52
2022-03-18 21:11:37
Best Home Builders in NC