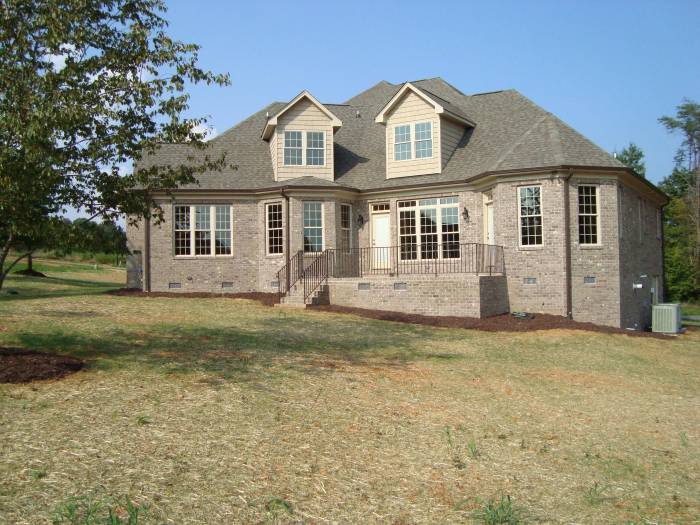 Are you looking for a place to settle down, to raise your kids out in the country where the green grass grows? Do you also need a place with a short commute to Greensboro or High Point? Summerfield fits this description and then some. New home neighborhoods are growing quickly. Custom built homes are going up in spectacular fashion, the most beautiful of which can be credited to a premier home builder in Summerfield, NC—Don Mills.
A Short Commute to Greensboro, High Point, and Winston Salem
Known as the Piedmont Triad, the cities of Greensboro, High Point, and Winston Salem form a loose triangle on the map in the foothills region of North Carolina. A diverse economy, the Triad is rich in opportunity. Summerfield is convenient to all three cities, yet still offers a small town sense of community. Just hop on Highway 220 and head into Greensboro or Interstate 73 straight to the Piedmont Triad International airport. From there catch 68 into High Point or continue on Interstate 40 (or go north and grab 158 if you prefer the back roads) to get to Winston Salem. Whether its work or entertainment that brings you to the city, the drive is quick and easy.
Scenic Landscapes, Fresh Air, and Greenways
The landscape showcases the beauty of rolling hills and lush green forests. You'll know you've left the city and entered the country by the smell of the air and the view of open land. Summerfield Community Park and Summerfield Athletic Park offer recreational opportunities of all kinds from ballgames to hiking trails. Picnic beside serene waters at Community Park and experience nature in all its glory. Catch the Anna Long Marshall Wayside which connects to the Atlantic and Yadkin Greenway, linking the Greenways throughout Greensboro into one long trail system. Summerfield is its own community, yet still connected to the city in so many ways.
Family-Friendly Neighborhoods and Top Notch Schools
New homes are going up in some great neighborhoods in Summerfield. Birkhaven and others have ready-to-build lots just waiting to provide the foundation for someone's dream home. Outside of the city limits, you can avoid the higher taxes that Greensboro residents pay and still enjoy great schools. Summerfield Elementary and Summerfield Charter Academy received high ratings on greatschools.org, meaning your kids can get a quality education close to home. For these reasons and many more, Summerfield is an ideal place to raise a family.
Don Mills Builders, a Leading New Home Builder in Summerfield, NC
Are you ready to slow the pace of life and take time to smell the roses? Consider having a custom home designed and built for you and your family out in the country. Don Mills designs luxurious homes that are built to your specifications. Every detail, every feature, every dream you've wanted for your future home can become your present home. Realize your dreams this year through a new home builder in Summerfield, NC, who knows the area and the business inside and out. Call today for a free consultation: (336)362-1777.
https://donmillsbuilders.com/wp-content/uploads/2017/08/DonMillsLogo-1.png
0
0
Sean Creedon
https://donmillsbuilders.com/wp-content/uploads/2017/08/DonMillsLogo-1.png
Sean Creedon
2017-08-10 20:46:25
2018-01-23 20:47:00
Benefits of Living in Summerfield, NC