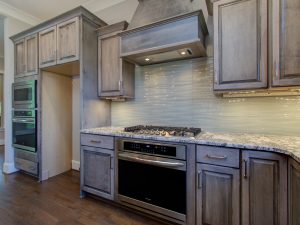 One of the many advantages to building a custom home is the opportunity you will have to add upgrades that dramatically improve the experience of living in that new house. As you get ready to finalize your design plan, consider the custom home upgrade ideas outlined below.
As a leading builder of the best custom homes Greensboro has to offer, Don Mills is someone who has built hundreds of "Dream Homes" for clients and can help you bring yours to live.
Add a Pool
There isn't anything else that serves as a showstopper quite like a pool on the property of a custom home. Not only does the pool add the functional benefit of being a place to have fun with family and friends, the shimmering blue water and surrounding pool deck can serve as a notable visual component. Pool ownership isn't for everyone, but it is something to at least consider in the planning stages of your new home design.
Create a Lounge or Bar
To make your custom home stand out from the pack, you might want to add rooms that aren't typically seen in other homes – like a bar or lounge room. This room could include an area to serve drinks, some comfortable chairs, and maybe a recreational component like a pool table or dartboard. Since you are designing a custom home, you'll have the flexibility to include this space in your design in an area that makes sense for the overall flow of the property.
Home Theater Experience
Home theaters have become more common in recent years, but you can make yours stand out by creating a large space with a huge screen, great sound, and terraced seating. Thanks to the great technology that is available to homeowners today, you'll be able to build an experience that rivals even the best commercial theater locations. Your homebuilder will likely bring in a contractor that specializes in audio/visual equipment to help put together this room perfectly.
An Athletic Court
Most homeowners are forced to head outside when they want to play basketball, tennis, or some other sport – but you might be able to design such a space into the layout of your house. An indoor sports center would be an incredible addition to your property, and it may not cost as much as you might think to add. This kind of space could be created as an attachment to your home, or it could be a separate building on the property.
Wine Cellar
This is another idea that will appeal to a particular segment of the homebuying market. If you are a wine collector and enjoy getting deep into the details of various varieties and labels, a dedicated wine cellar room may be worth including in the design. Not only can your wine cellar serve as a great place to store bottles, but it can also be a key design element that adds interest and style to the lowest floor of your custom home.
https://donmillsbuilders.com/wp-content/uploads/2017/08/DonMillsLogo-1.png
0
0
Don Mills Builders
https://donmillsbuilders.com/wp-content/uploads/2017/08/DonMillsLogo-1.png
Don Mills Builders
2021-10-27 19:41:00
2021-10-27 19:42:12
Custom Home Upgrades to Wow Your Friends