Building a custom home is a big undertaking, but a very rewarding one if you hire the right builder. A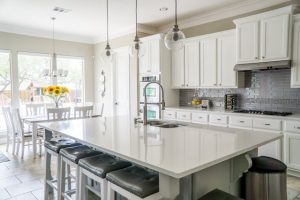 custom home is truly unique and won't be exactly like any other home. You can prioritize the features you want, choose a style that suits your preferences, and build it on a plot of land that fits your lifestyle.
How do you find the right one out of all the Greensboro homebuilders who can give you the home of your dreams? Be sure to ask these questions before hiring a custom home builder.
What style are the homes you've built in the past?
Ask the builder for pictures of the homes they have recently built. Do all of their homes share a similar style? Or do they seem to build a wide variety of architectural styles? If you have a certain vision for what you want your home to look like, you need a builder who has the flexibility to create it.
What neighborhoods do you build in?
Most Greensboro homebuilders have a list of communities they most often build in because a lot of neighborhoods are designed with a similar style of homes throughout. If you have a certain neighborhood in mind, you should ask the builder if they can build there or not. Most builders are willing to build on any lot, but it's important to ask upfront.
What is the usual price range of the homes you build?
Builders tend to build homes in a similar price range. If you have a certain price range in mind, find a builder whose previous homes fall within that range. You want someone with experience building the size and quality of the home that you desire. Look at the other homes and the neighborhoods where the builder has constructed homes to get a feel for their usual range.
How long will it take to build my home?
Ask any potential builders for an average time frame for building. A builder may only be able to build a certain number of homes each year, so be sure to ask for an accurate estimate for the timeline of the process from the beginning to the end. If you're under a time crunch, you need a builder who can meet your deadline. However, it's important to note that building a custom home takes time, and if you're in a hurry, this may not be the best choice for you.
Do you build energy-efficient homes?
Green homes and smart homes are in high demand as home buyers wish to lessen their home's impact on the environment as well as lower their energy costs. Homes with high square footage require a lot of energy for heating and cooling, lighting, electronics, appliances, and daily living needs. If you're interested in a high-efficiency home, ask any potential builder what features they include to reduce overall energy consumption in a home.
What does your new home warranty entail?
Any builder you consider should have a home warranty of some kind for at least the first year after the home is built. Be sure to ask about a warranty and don't hire any Greensboro homebuilder who doesn't offer one.
What is your process for building a custom home?
Ask how the process works for building a home from start to finish. Find out what the protocol is for making changes and for keeping you updated on the progress. Your builder should keep you very well informed throughout the process.
Can I tour some of your homes, both finished and in progress?
Ask to take tours of homes the builder has completed and others that are in progress to get a feel for the style, process, and craftsmanship. If anything seems amiss, ask about it before deciding to hire a builder.
Create the Home of Your Dreams with Don Mills Builders
What does your dream home look like? You surely have a vision in your mind when you think about it. That vision can become a reality with Don Mills Builders. Don Mills builds luxury custom homes in the most highly desired neighborhoods in Greensboro, Summerfield, Oak Ridge and the surrounding areas.
If you're interested in a Don Mills original home, call (336) 362-1777 or request a quote. We look forward to working with you to create the home you've always wanted.
https://donmillsbuilders.com/wp-content/uploads/2017/08/DonMillsLogo-1.png
0
0
Don Mills Team
https://donmillsbuilders.com/wp-content/uploads/2017/08/DonMillsLogo-1.png
Don Mills Team
2020-10-29 09:06:49
2020-12-29 21:36:07
What Questions Should You Ask a Custom Home Builder Before Hiring Them?