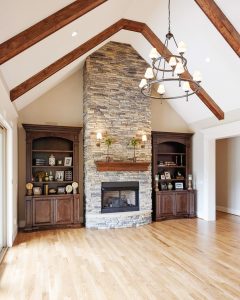 When it comes to decorating your home, whether it's a brand new custom home or your current home that's in need of a fresh look, there are some unique trends that have arisen in 2018. If you want cutting-edge design that will give your home a modern look, consider incorporating these decorating tips. And if you want a completely clean slate, building a custom home gives you limitless options. Custom building allows you to design a home to meet your needs and wants, including your decorating ideas. Build your dream home with one of the best home builders in Greensboro, NC, Don Mills.
Decorating Trends of 2018 fit into these 4 Categories:
Color. Bold accents that bring out pastel colors in the background offer a calm, serene feel that still hums with excitement. Watercolor pattern on walls and other surfaces give a textured look that is the ideal mix of subtlety and boldness. The lighter watercolors can be reflected in smaller pieces with brighter colors like throw pillows, rugs, and window treatments.
Material. As we grow more earth-conscious, the focus is on environmentally friendly materials. Natural wood, stone, marble, clay, cork, and live plants give a variety of textures that allow us to experience décor with multiple senses. Reclaimed wood and recycled materials are replacing man-made, mass produced items. Bringing natural materials inside softens the divide between man and nature.
Fabric/Pattern. Soft textures like velvet are returning to current decorating trends, as well as patterns on walls and floors. Trends from each decade from the '30s through the '90s are being represented, with bold geometric patterns of the '70s, jewel-tone velvets of the '80s and '90s, and even artistic hand-painted fabrics in rich colors from the '30s, '40s, and '50s. Touch and texture are as important as aesthetics in this year's hottest designs.
Room Design. Individual rooms are becoming more focused on their overall purpose than ever before. Beauty and functionality meld in designs and layouts that revolve around use of the room. In 2018 homeowners are looking for convenience, comfort, and style in one low-maintenance package. Busy lifestyles leave less time for perfect room arrangement and create the need for décor that looks stylish and put together even when in use.
The Best Home Builders in Greensboro, NC Expertly Combine Décor and Home Design
The architecture and floor plan of your home will influence the overall décor. You can decorate the interior to suit the home, or you can custom build and let the interior décor go hand-in-hand with the design of the home. The best home builders in Greensboro, NC, have the expertise to take both aspects of home design into consideration, the structure and the décor. The end result is a home that not only meets, but exceeds your expectations. A custom home is completely unique, reflecting the homeowner's personality in both the design and décor. If you're ready to have the custom building experience, contact Don Mills Builders for a consultation at (336) 362-1777.
https://donmillsbuilders.com/wp-content/uploads/2017/08/DonMillsLogo-1.png
0
0
Sean Creedon
https://donmillsbuilders.com/wp-content/uploads/2017/08/DonMillsLogo-1.png
Sean Creedon
2017-10-24 16:11:25
2018-01-24 16:11:55
Top Decorating Tips of 2018