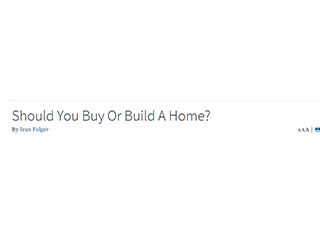 For anyone planning to buy a home or move to the area, knowing what options are available are a huge help. It may seem unnecessary to have a home built considering all of the homes available for sale, but a custom-built house has several advantages. Expert home builders in Greensboro, NC like Don Mills Builders, Inc. are able to work with you build the perfect house including all the amenities you'd love to have in your home. Jean Folger in her article for Investopedia talked about some of the advantages of having a new house built:
A new house may literally be better for you. "A new home is less likely to have the health concerns or toxic materials of an older home – things such as asbestos, lead paint, mold, etc.," says Burtt. And it can be built with certain materials making it better for the environment. "Green appliances/Energy Star rated appliances, and more efficient toilets, plumbing fixtures and electrical fixtures allow you to build "green" for a more sustainable home in the long run. And you have the option to install, sleeve and/or wire for future technology upgrades, such as home automation and solar," says Burtt.
Another advantage to having a home built to your specifications is that the house will have all the features that you want. No need to look at all the homes for sale in Greensboro, NC, checking for ones that meet your specifications; with a home built according to your plans and preferences, you'll be quite happy to immediately move into it when it's finished. For example, if you want a house with a specific number of bedrooms or want a home with a workshop, you can just discuss it with your trusted builder and have him include it in the construction plan.
Building from scratch also means you don't have to worry about any of the shortcomings of previous owners. Maybe an old owner modified the house to include a lounge that you don't want, or the windows are too small. Needless to say, renovating a house to meet your tastes can be as expensive as building a new one. Therefore, as long as you have the resources for it, it's much easier to invest in a brand-new home that reflects your personality rather than trying to change an old one.
Building a new home can, admittedly, have a high price tag and take some time. However, considering all the advantages, it can be well worth the expense.
(Source: Should You Buy Or Build A Home?, Investopedia)
https://donmillsbuilders.com/wp-content/uploads/2017/07/build-or-buy-a-home-1.jpg
240
320
dmbuilders_admin
https://donmillsbuilders.com/wp-content/uploads/2017/08/DonMillsLogo-1.png
dmbuilders_admin
2017-07-12 08:30:23
2017-07-12 08:32:54
Let Expert Home Builders in Greensboro, NC Create Your Dream House