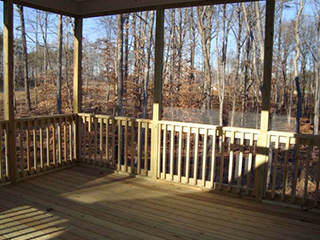 There are many key decisions to consider when planning to build a home in Greensboro. A great home is one that you are happy to wake up in every day. It is efficient in its layout and usage, is interesting yet practical, and brings joy into the very basics of living. These 8 steps will help to guide you through the process:

Plan and Design of Home Building

The design process is the most important part of building your new home. No matter how good your blueprints are, no matter how competent your builder, your plan must be well thought out and logically developed to ensure a well constructed home that meets your needs, your lifestyle and your unique personality.

The planning and design phase involves using creativity and visualization to realize your likes and dislikes. It involves honest communication with others: your spouse and/or children, your designer and builders, and your banker. Take the time to discuss compromises and different options. Visualize your finished home from the inside out, the feel of each room, corner and hallways. In short, what it will be like to live in.

Home Construction Regulations

Often there are many regulatory requirements that affect your project, from zoning to allowable setbacks, buildable area, height restrictions, sewage disposal, water and utilities and many more. We are familiar with all regulations to take this stress off of you.

Budget for Building Your Home

Too many people travel far down the road to their dream home only to find out that they can't afford it, sometimes after construction is already finished. Not only is it important to be perfectly clear about the overall cost of the home you wish to build, but the amount of the monthly mortgage payment (factoring in for times of higher interest rates) and the effect on your overall life cash flow as well. And it is important to include all costs, not just construction costs in your budget.

There are additional 'soft' costs including design and engineering fees, surveying, driveway and landscaping, septic fields, and building permit fees or development charges. Don Mills will help you decide on a budget that includes all costs with no hidden fees.

Technical Aspects of the Building Process

Don't forget to consider the physical attributes of the building site: access, wind and sun exposure, and septic field capacity to name a few.

Home Plan Evaluation

Assign areas where specific rooms will be located. Look at access and circulation and begin finalizing a realistic budget. Undertake the difficult but extremely important step of matching your dream with the reality of your financial situation. It is important to build with unforeseen costs and extra spending for special features in mind. It may be necessary to modify your plan at this stage. Double up the function of a couple of rooms, eliminate some rooms entirely, finish the basement at a later date, or tighten up the entire floor plan. The importance of this step cannot be over-emphasized. These are the critical decisions that still allow you to have the well designed and beautiful home you want at a price you can afford. At this point you may not have even looked at floor plans nor put pencil to paper. But you are well on the road to having an exceptional home.

Drawing Process

This phase is best left up to us. It is helpful for all parties involved if you write down some of your thoughts on paper and have a rough idea of what you want.

We will help you establish relationships between the various rooms, help choose the primary orientation and the general feel of the home. This is the initial step to creating blueprints and should be reviewed many times by our design experts and yourself, the client. This is the time to make changes and add detail, because once the schematic drawings are finalized, it becomes much more costly to make changes so it is wise to spend extra time getting it right at the beginning.

Home Design Development

Next comes the technical side of design; attaching exact dimensions to each room, calculating wall heights, roof pitches and stair details, construction methods, etc. Your home is definitely beginning to take shape.

Working Drawings

There is little opportunity to make plan changes at this point, which become more expensive, but of course, less expensive than changes during construction. These drawings may include detailed specifications for materials and construction and schedules for doors, windows, and finishes.

Give Don Mills Builders a call today. With our help throughout the entire process of home building, we can take your vision and transform it into your reality.
By: Don Mills
https://donmillsbuilders.com/wp-content/uploads/2017/07/ft-img-top-tips.jpg
240
320
dmbuilders_admin
https://donmillsbuilders.com/wp-content/uploads/2017/08/DonMillsLogo-1.png
dmbuilders_admin
2017-07-12 08:25:46
2017-07-12 08:48:26
Greensboro Home Building