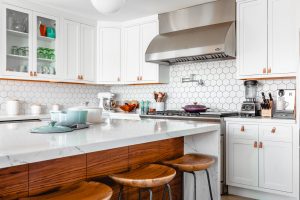 Designing your custom kitchen is one of the most exciting parts of the custom home building process. There is a wide variety of features to consider from the basics like cabinets and countertops to the intricate details. Don Mills, one of the best homebuilders in Greensboro can provide you with plenty of ideas to make your kitchen your own. 
Lighting Under Cabinets
The counter space underneath cabinets tends to lack sufficient lighting. Consider adding small LED lights on the underside of the cabinets to shed some light on the countertop and make the space more functional for food preparation. Lights can be turned on by switch, touch, or motion. 
Electrical Outlets Under Cabinets
Did you carefully choose a beautiful backsplash for the walls between your cabinet and countertops? Don't cover it up with electrical outlets. Put a power strip on the underside of the cabinets so you can plug in anything from appliances to electronics while the outlets remain out of sight. 
Tablet Mount
Do you get most of your recipes online? Save yourself time and paper and read them right off your tablet with a conveniently placed tablet mount. It can be attached to the underside of your cabinets to save you counter space. You can even watch cooking videos while you cook. 
Slide-out Produce Cabinet
Looking for ways to save counter space? If you keep a lot of produce on hand that doesn't need to be refrigerated, a produce cabinet can save a lot of space. With vented drawers to allow necessary airflow, you can store your potatoes, onions, tomatoes, bananas, pears, oranges, and any other produce that would be taking up valuable space on your counters. 
Diagonal Drawer Dividers
Tired of messy utensil drawers? Diagonal drawer dividers provide organization for even your longest utensils, such as rolling pins, meat thermometers, skewers, and more. 
Carousel Cabinet
Have trouble reaching to the highest shelves? A carousel cabinet consists of shelves on a vertically rotating mechanism that allows you to bring the shelf you need down to your level. 
Deluxe Sink System
Even your kitchen sink can be upgraded to include the latest technology. Include a large sink with cutting boards that slide over top for easy food prep and waste removal and drainage grates that slide over the sink for drying clean dishes or rinsing produce. You can even close panels over your sink to create more counter space when you need it. 
Multi-purpose Island
Your kitchen island can be more than just an extra countertop with storage underneath. Include a built-in stovetop or another sink so that you can do more from your island without having to face the wall. 
Your Custom Kitchen can have it all with Don Mills
Do you want the kitchen in your custom home to be on the cutting edge of technology and style? Work with home builders in Greensboro who can incorporate these 8 add-ons and any others you're interested in. Don Mills Builders can give you the kitchen of your dreams. Call (336) 362-1777 today to schedule a free consultation. 
https://donmillsbuilders.com/wp-content/uploads/2017/08/DonMillsLogo-1.png
0
0
Don Mills Blog
https://donmillsbuilders.com/wp-content/uploads/2017/08/DonMillsLogo-1.png
Don Mills Blog
2019-12-04 19:00:07
2020-02-03 19:34:08
8 Add-ons for your Custom Kitchen