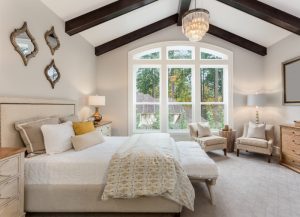 Do you have an empty nest? The kids have all gone off to college or got married and have homes of their own and now you have a bunch of empty bedrooms. You have this big, beautiful house that one of the premier home builders in Greensboro built when your family was younger that now feels a little hollow. Don't let it get you down. Instead, think about all the amazing possibilities. These rooms are full of untapped potential. Now is your chance to do all of the things you've always wanted to do with your home.
High-Tech Home Office
If you don't already have a home office or if you need to expand your current office space, make one of those empty bedrooms into a high-tech work haven. Furnish it with stylish, functional pieces that inspire you and help you keep your office organized. Include high-speed Wi-Fi connection so you'll never drop an important conference call.
Home Gym/Yoga Studio
Need a place that inspires you to sweat it out? Or maybe a Zen space for yoga and meditation? Turn one of those empty rooms into a fitness studio with machines, weights, and exercise equipment. Include media to keep you entertained and motivated while you work out.
Arts and Crafts Room
Do you have so many craft supplies they need their own room, or maybe a second room? One of those empty bedrooms can be your craft room. Add plenty of storage for craft supplies, tables for work space, and even a sink for clean-up. Durable flooring is wise for messy projects.
Man Cave
Are you tired of being relegated to the garage or basement for your man time? Make an empty bedroom your man cave. Get the big screen smart TV, surround sound, leather recliners, and gaming system you've always wanted. Display your sports paraphernalia and deer head with pride. Your wife can just close the door.
Lady Lair
And speaking of the wife, shouldn't you have a room of your own to relax and unwind after a long day? The lady lair is becoming just as popular as the she-shed, but why go outside? Use one of the empty bedrooms to create a space just for you. It could be similar to a craft room or a yoga studio. Maybe you need a luxurious spa room with a jacuzzi tub, sauna, and steam shower. Mom, you've spent years giving all of your time and energy to the kids. Now that they're grown, this is your time.
Have it All with a Luxury Custom Home
Ready for something new now that the kids have grown up and moved out? One of the finest Home builders in Greensboro, Don Mills, is currently designing and building custom homes on available lots in some of the most desired communities. Without the kids it can seem as if your family has gotten smaller. But then they get married and have your grandchildren and suddenly you need all the space you can get when they come for a visit. Build a new custom home that's big enough to accommodate the whole family as it grows.
Call Don Mills Home Builders in Greensboro at (336) 362-1777 today or request a consultation.
https://donmillsbuilders.com/wp-content/uploads/2017/08/DonMillsLogo-1.png
0
0
Don Mills Builders
https://donmillsbuilders.com/wp-content/uploads/2017/08/DonMillsLogo-1.png
Don Mills Builders
2020-05-30 21:09:06
2020-07-15 21:16:18
What to Do with the Bedrooms When the Kids Move Out